November 13, 2020
Dear Bowmen Community,
Phew. We made it to the end of Quarter One. I know there have been bumps along the way. I appreciate you all sticking with us and supporting us through it all. Below is the message for this week:
Principal's Message 11/13/2020
I hope you have a wonderful week!
Sincerely,
Melissa Baran
Principal

Quarter Two Schedule

In response to feedback from students, families and staff, we have made some adjustments to our daily schedule for Quarter Two. The most significant changes are the following:
Homeroom is moved to one consistent time for all students (11:00am-11:30am)
Homeroom will meet three days per week as opposed to five (Mondays, Wednesday and Fridays)
Office Hours are 15 minutes shorter
Homeroom meets Monday, Wednesday and Friday

Materials/Textbook Distribution for Quarter Two

We will have materials/textbook distribution for Quarter Two on the following dates/times. PLEASE NOTE THE CHANGE TO DAYTIME PICK UPS ONLY
Monday, November 16th 8:00am-3:30pm
9th Grade 8am-10am
10th Grade 10am-12pm
11th Grade 12pm-2pm
12th Grade 2pm-3:30pm

Tuesday, November 17th 8:00am-3:30pm
Wednesday, November 18th 8:00am-3:30pm
The following teachers/courses have materials/textbooks to pick up: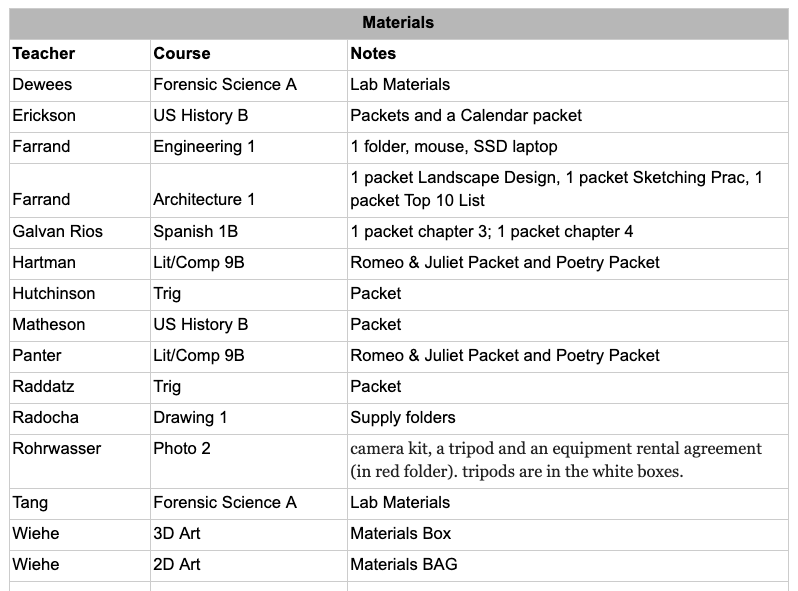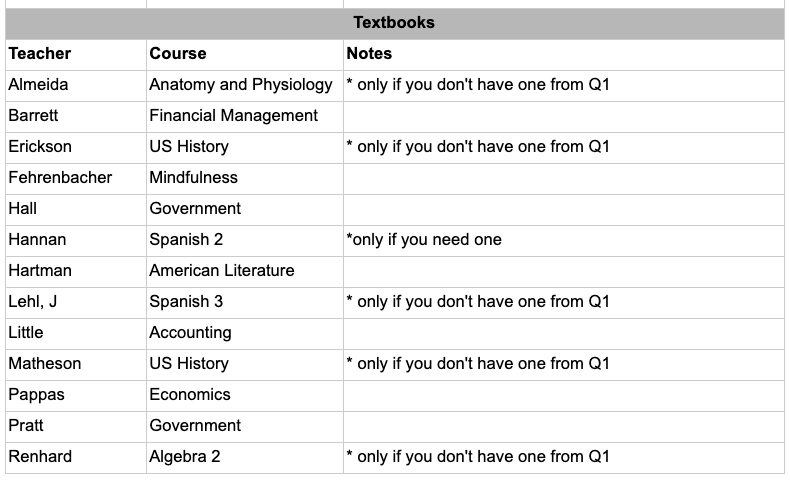 Please adhere to the assigned times as best as possible to help us comply with COVID-19 social distancing requirements.  Also, face coverings/masks must be worn in order to enter the building and social distancing must be adhered to at all times. 


School Pictures
School pictures from Dorian photography have been canceled. If you have already paid for your Dorian order, please contact Dorian Studio Customer Service for a refund. No additional school picture days are scheduled at this time.

Students of the Month
October Students of the Month were nominated for both their Academic Achievement, as well as their demonstration of October's Character Trait: Commitment.
Hailey Linkhart
Tucker House
Sophie Biegel
Kaily Nicolet
Sasha Drummond
Gracie Grimm
Megan Soto
Oscar Hernandez
Ethan John
Naomi Herdinger


Quarters 2-4 Schedules
Student schedules are now visible in StudentVue and ParentVue. Building our schedule this year was extraordinarily challenging. We fully recognize and understand that this is not an ideal situation to be in, but we have checked and know that every student is enrolled in courses that will move them toward high school graduation. Below is further information about the schedules and our next steps:
The schedule is complete and visible for the remainder of the school year.
Numerous students received classes they did not forecast for. This occurred because of the constraints placed on our schedule as a result of attempting to meet the COVID-19 guidelines.
Schedule changes will only occur for level misplacements. At this time, we can not accommodate any other schedule change requests.
Quarter Two
Quarter Two will begin on Tuesday, November 17th.

Counseling Corner
Please check out our Counseling Corner Newsletter to learn about upcoming opportunities for students to check out colleges, find mental health resources and learn about testing as well. Important announcements from your Counselors!

Next week is Cancer Awareness Week!
Our charity this year is Candlelighters for Children with Cancer. Candlelighters provides support for families in Oregon and SW Washington impacted by childhood cancer. From diagnosis through treatment and beyond, they provide programs such as emergency financial assistance, an annual family camp, family activities, bereavement support, and a hospital meal program that offers comfort and support for families during a difficult journey. Through it all, they never charge families a dime.
Here are the dress-up days for the week:
Fundraising will look a bit different this year since we're not in the classroom. We will be using Pay-for-it to collect donations, and using bingo cards for different amounts of money so that you can earn prizes for participating! Stay tuned for more bingo/Pay-for-it information. 
We will also be doing a Holiday Drive for Candlelighters, where you can bring the following items to the school next week and place them in the labeled bins:
There will be another scavenger hunt as well! So keep your eye on your email for the code and how to participate!

Parent Support Organization
Monthly PSO Meetings: Join us the 1st Friday of each month at 2:00pm for updates from Principal Baran, student leadership, and our PSO board. Meetings are streamed live on our Facebook page.
Website: www.shspso.org
Contacts:
info@shspso.org
president@shspso.org
volunteers@shspso.org
Social Media (links below or search @sherwoodhspso)
Facebook – Instagram – Twitter

Seniors – Grad Night 2021
New  Senior sweatshirts $40 + free facemasks.  Customization is available for an additional fee.  Order here through December 1st pick up at Adams on December 14th. 
Shopping?  We are gathering our raffle prize donations. A full list and sign up can be found here. If you see something fun, don't hesitate to pick some things up!  All items donated are tax-deductible. 
SHSGradnight2021@gmail.com – Follow us on Instagram, Snapchat, and Facebook –  visit our SHS Grad Night 2021 website

Juniors – Grad Night 2022
Our next meeting is November 17th at 6:00pm, please email us at shsgradnight2022@gmail.com for the zoom link. Please get involved and help make this the best Grad Night Party for our future seniors!
Win a $1500 Amazon gift card just in time for the Holidays and the post-Thanksgiving sales. Raffle tickets are $25 each and we are only selling a total of 200 raffle tickets, so get your tickets early before they sell out! The winner will be drawn on Wednesday, November 25th. To purchase, go to https://charityauction.bid/SHSGradNight2022, visit our Instagram @shsgradnight2022, Our FaceBook public group SHSGRADNIGHT2022, or shoot us an email at shsgradnight2022@gmail.com
If you are interested in being a part of the fundraising committee please reach out to us at shsgradnight2022@gmail.com. Help us make this an amazing night for our future seniors!

Resources
Attendance Information – 503-825-6010
Canvas
Distance Learning Daily Schedule
Free and Reduced Lunch
ParentVue
Revised District Calendar 2020-2021
SSD Technology Hub
Technology Services