February 5, 2021
Dear Bowmen Community,
Congratulations! We made it to the halfway mark. I'm so incredibly proud of each of you for all that you have accomplished.
Have a great weekend!
Sincerely,
Melissa Baran
Principal

Quarter Three Materials/Textbook Distribution
Monday, 2/8 8:00am – 3:30pm
Tuesday, 2/9 8:00am – 6:30pm
Thursday, 2/11 8:00am – 3:30pm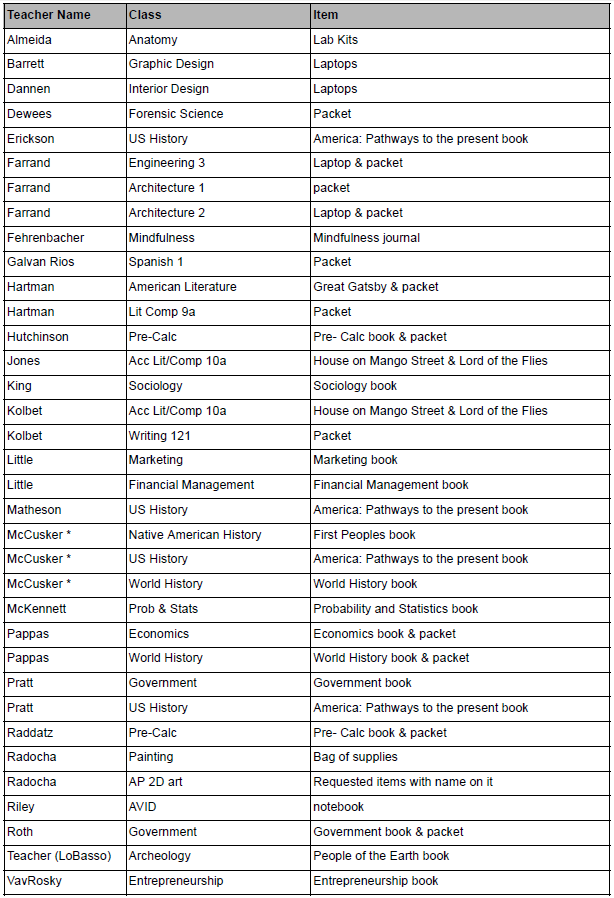 Update Your Information in ParentVUE
The beginning of a new year is a great time to update your student's contact information and emergency contacts in ParentVUE. Current student records and contacts are crucial in the event of emergencies, and during this year of distance learning. Please update your student information in the ParentVUE app or click here!
Families with Freshmen students, we need you to review your information as well! Records sent from the middle school could be older than you realize.

Health Survey 2020-2021
Our school is participating in the Student Health Survey (SHS), a survey sponsored by the Oregon Health Authority, Public Health Division, and the Oregon Department of Education. The survey will gather information about health risk behaviors of students in grade 11. The survey will be conducted online and is anonymous. It includes questions about:
Student health and safety
Student mental and behavioral health
School climate and culture 
Survey procedures have been designed to protect your child's privacy and allow for anonymous participation. If your child is not comfortable answering a question, they can leave it blank. While we encourage all students to participate, the decision to participate is voluntary. You may opt to send a refusal for your child's participation. Alternatively, your child will have the opportunity to refuse at the time of the survey.
Please return this form by email to jmoore@sherwood.k12.or.us before February 22, 2021. You need only return this form if you do not wish your child to participate.

Scholastic Art Competition Winners
The following students were Scholastic Art Competition Winners in the Portland Metro area. Student artwork was judged against their peers by local art professionals. Judges look for works that best exemplify originality, technical skill, and the emergence of a personal voice or vision.
Gold Key Portfolio – Cameron Christensen
Silver Key Portfolio – Natalie Pastores
American Visions Award (Best in Show) – Lauren Langvin
Gold Key Individual Winners: The very best works submitted to local programs. Gold Key works are automatically considered for national-level recognition
Tucker House
Brooke Smith
Cameron Christensen x3
Elise Evans
Emily Hnatiuk
Natalie Pastores
Grace Travnicek
Silver Key Individual Winners: Stand-out works submitted to local programs that demonstrate exceptional ability.
Ainsley Halloway x2
Lauren Langvin
Sydney Monroe
Delani Stalder x2
Hailea Tarvin
Paige Austin
Amanda Esser
Elise Evans x3
Annikah Godard x2
Emily Hnatiuk
Camryn Porter
Grace Travnicek x2
Mathias Yigzaw
Honorable Mention Individual Winners: Accomplished works submitted to local programs showing great skill and potential.
Ainsley Halloway
Sydney Monroe
Anna Reckard
Brooke Smith, 
Alexander Spurling|
Delani Stalder x2  
Sophia Tesdall 
Paige Austin x3
Cameron Christensen
Elise Evans
Annikah Godard
Emily Hnatiuk
Natalie Pastores x4
Joley Sproul x3
Mathias Yigzaw x2

Students Taking Engineering 3  and Architecture 1 & 2 
Students taking Engineering 3 or Architecture 1 & 2 will need a USB computer mouse to efficiently use the software in these classes. Please make sure your student has one to use. If acquiring one is a hardship, please contact Mr. Clark Farrand (cfarrand@sherwood.k12.or.us) for assistance.

Bowmen Cheer – Panera Dine Out
Please enjoy a night out and support Bowmen Cheer on Wednesday, February 10th, 4:00pm – 8:00pm at our Sherwood Panera. Be sure to tell them Bowmen Cheer and/or enter Promo Code = PRFUND at online checkout.

Sing O Grams


New Meal Pick Up Times
Sherwood High School nutrition services will be expanding meal hub times to include 1:30pm to 2:30pm. The location of the meal hub will be outside the main entrance to the high school building. All youth ages, 1-18 may pick up a free meal bag during this time.
Complete Free-Meal Pick Up Times
Mornings 
7:30 am to 8:45 am
Midday
10:45 am to 12:45 pm
Afternoons 
1:30 pm to 2:30 pm
By taking a meal you are NOT taking food away from someone who needs it more, you are supporting SHS Nutrition Services!

Sparrow Club
We have officially launched our 2021 Sparrow, Vivian! 
Click this link to watch a video and learn more about Vivi and her story.
Meet our 2021 Sparrow, Vivian!
Sparrow Service Voucher 
Sparrow Service Website
NHS Service Opportunities
Vivian Lee Foundation
Vivi's Vintage 

Bilingual teaching Recruitment – 2/9 & 2/10
We are in the process of advertising two opportunities for anti-biased and anti-racist, linguistically and/or culturally diverse Washington County community members to learn more about becoming an educator. We are working with our partners from Beaverton SD, Forest Grove SD, Hillsboro SD, Northwest Regional ESD, Portland Community College, Tigard-Tualatin SD, and Sherwood SD for these Washington County Future Teachers Pathway information sessions on Feb 9th and 10th.
Flyer in English and Spanish with more information here:
In collaboration with our partners, we will be providing advisors to help attendees with each step along their educational journey: GED, English language acquisition, associate's degree, foreign transcript evaluation, employment as a non-licensed staff member, Bachelors, and Masters. We aim for each attendee to leave the meeting with a clear pathway to teacher licensure.
Thank you –
Sherwood School District Human Resources

Yearbook – 2/15
Seniors wanting to submit a Senior portrait to the yearbook, the deadline is Monday, February 15th, 2021. Please see the Yearbook Page on the SHS website for instructions. *Please note ALL student and parent submissions to the yearbook this year will be online. Do not send any submissions via email, or hard-copies via mail. Purchase a yearbook online, in Parent Vue, under optional fees. Cost is $65.

Blood Drive – 2/23
Bowmen, we need you! Sherwood High School is partnering with the American Red Cross to save lives! Every two seconds someone in the U.S. needs blood. It is essential for surgeries, cancer treatment, chronic illnesses, and traumatic injuries. You can potentially save 3 lives with your generous blood donation. Be a Hero on Tuesday, February 23rd and donate blood!
Covid-19 Protocols:
CDC, FDA, Surgeon General & Governor Brown encourage people, who are well, to donate blood. Strict COVID-19 Protocols have been implemented to keep everyone safe. Temperature pre-screen, masks, social distancing, additional sanitizing throughout the blood drive. In addition, all donations are tested for COVID-19 antibodies.
Sherwood High School Red Cross Blood Drive
When?  Tuesday, February 23, 2021
Where?  Sherwood Center for the Arts
Time?  10:00am – 3:00pm
How Do I Sign Up? Click to follow link:  https://rcblood.org/2JRwy0f or, go to redcrossblood.org and enter Sponsor Code: SherwoodOR.

Seniors – Grad Night 2021
Seniors, please check your emails! 
T-Shirt Design – We have a great opportunity for your Senior to share their creativity and possibly win $100! Design a logo for your Grad Night t-shirt and email it to us at shs2021students@gmail.com.
Speaking of t-shirts, please have your student email their t-shirt size to shs2021students@gmail.com. The student's name and shirt size should be in the email subject line. Thank you to the students who have sent them in.
Volunteer opportunities are still available through May 1st and we have a $1000 volunteer scholarship up for grabs! We will announce the winner on June 1st, live on FB and Instagram.
We are gathering raffle prizes for Grad Night. A full list and sign up can be found here. Thank you for those who have already donated. All items are tax-deductible. If you need a receipt, please contact us.
The Grad Night 2021 Committee is committed to following Oregon's guidelines regarding Covid precautions. As you know those guidelines can and will change between now and June. Currently we are making plans, along with contingencies, and will modify as needed for current guidelines come June. As always if you need information, have an idea to share, or need to get in touch, please contact us at SHSGradnight2021@gmail.com
Follow us on Instagram, Snapchat, and Facebook 
Check out our website: SHS Grad Night 2021
Contact us at: SHSGradnight2021@gmail.com

Juniors – Grad Night 2022
We need your help for our monthly Can and Bottle Drive this Sunday, February 7th at 11:00am. Click here for the sign up genius page to see how you can help. Don't worry the drive will be over by 1:00pm, so you will have plenty of time to watch the Super Bowl!
Valentine's Day is just a little over a week away. Don't forget to order your Valentine's Day charcuterie box, tray, or other Valentine's treat! You have until February 10th to get your order in. Place order via email at SHSGradNight2022@gmail.com. Click on the attached flyer for all the details.

Resources
Attendance Information – 503-825-6010
Canvas
Career Center Newsletter
Covid Resources Sheet
Distance Learning Daily Schedule
Parent Support Organization
ParentVue
Revised District Calendar 2020-2021
SSD Technology Hub
Technology Services