March 5, 2021
Dear Bowmen Community,
Thank you for your continued support and partnership!
Sincerely,
Melissa Baran
Principal

High School Return to In-Person Instruction Information and FAQ

We are excited to share information about our return to in-person instruction plans. Below is a link to a website with as much information as we currently have. If there are additional questions, please feel free to contact us!
High School Return to In-Person Instruction Information and FAQ

Spectators at High School Athletics Competitions

After working through the myriad of logistics in hosting events, with COVID protocols and indoor and outdoor limitations on the number of individuals allowed on site, we are slightly adjusting our Pacific Conference agreement to not have any spectators throughout OSAA Season 2 sports, for parents of Seniors only.
Currently Washington County (Sherwood and Forest Grove) has been placed in the Moderate Risk Category, while Yamhill County (Newberg and McMinnville) moved to the High Risk Category. The protocols on spectators, as directed by the Oregon Health Authority are what guide our actions in providing an opportunity for student-athletes to compete.

OREGON HEALTH AUTHORITY
RISK LEVEL GUIDELINES FOR HIGH SCHOOL ATHLETICS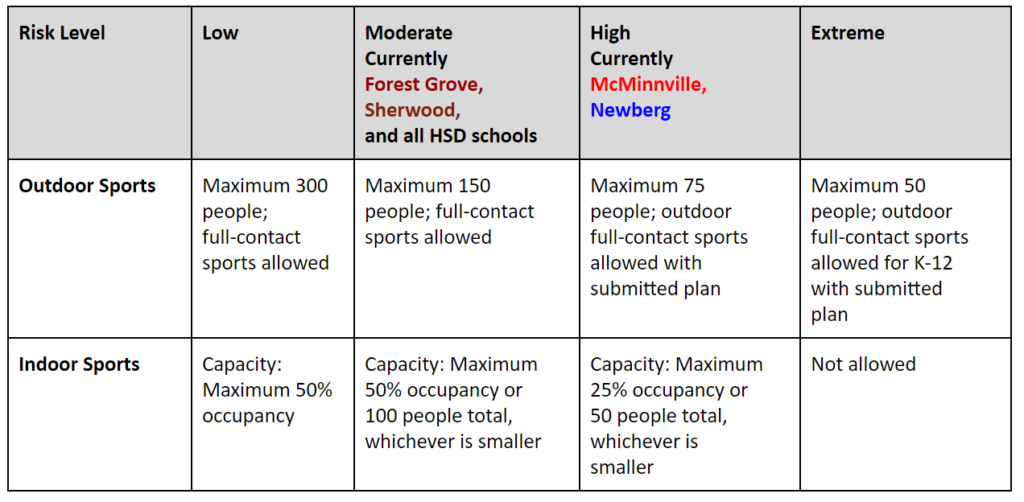 Note: If Washington County were to return to a High-Risk Level at any time in the future and OHA guidelines didn't change the restrictions, SSD wouldn't be able to allow spectators at any events.
Our first priority is giving our student-athletes the opportunity to suit up in their uniforms and compete in their sports. Along with this is the number of individuals needed to run a contest. As an example, in volleyball, 8-10 individuals other than coaches and participants are needed to hold a contest. Officials, score clock operators, lines crew, the athletic trainer, all count in the maximum number of individuals allowed on site.
We also understand the importance of families being able to support student-athletes, particularly for our seniors, who are experiencing their final high school year.
Starting the week of March 8, 2021, we will be welcoming the parents/guardians of our Senior student-athletes for cross country, volleyball, soccer and football, as numbers allow. Spectators will not be allowed from visiting teams. We know this situation is not ideal, but with everyone's help we believe we can make this work. Thank you for your understanding and assistance.
Again, our number one priority is the students. We know they are excited to play, we're excited for them to play, and families are most certainly excited for them to play. We are also acutely aware of the challenges presented to us by the ongoing pandemic. Things are improving in our area, and we are optimistic that as the COVID case rate continues to drop and vaccination coverage increases, we will be able to expand our operations accordingly.
For those not able to be on site, each school is offering a live stream option. Forest Grove, Newberg, and Sherwood all use NFHS Network as a method by which spectators can view live contests. Through their local public access channel, McMinnville High School is able to live stream their events on www.mcm11.org/live
Additional information about the operational status of the system at your school or contest location will be provided by each school.
On Friday, March 12th, we will send out another update with information for the following two weeks, based on the risk level designation that will go into effect for March 12th – March 26th. If we remain at the Moderate level or move to the Low level, our plan will be to expand the pass system to students in the lower grade levels.
Thank you for your cooperation and understanding. We look forward to having our student-athletes back on the field and in the gym. And we look forward to seeing all of you cheering their efforts from the sidelines!

Doernbecher Days
This upcoming week is "Doernbecher Days" in place of our Annual Bowmen Pageant, benefiting Doernbecher Children's Hospital. There are a variety of ways to participate and help us raise money!
We will be having Dining for Doernbecher events throughout the week – Monday from 10:00am – 10:30pm at MOD Pizza, Tuesday – Thursday at the Old Spaghetti Factory (use code BOWMEN at checkout), Wednesday at Handle's, and Friday from 4:00pm – 8:00pm at Panda Express. Please show each flyer at the specific restaurant when you attend.
Flyers: MOD Pizza, Old Spaghetti Factory, Handle's, Panda Express (English | Español)
There is a bottle drive going on all week at the high school! Bring any empty cans in garbage bags, and place them by the sign in front of the high school. As always, please wear a mask and practice social distancing while on school property.
Last, but certainly not least, we have some teacher challenges! Do you want to see Mr. Baltzell eat Nuclear Ramen, what about Ms. Hutchinson dye a smiley face into her shaved head, or see Mr. Jones dye his beard the color of your choice, and many more?! Each teacher has an amount that needs to be raised in order for them to complete the challenge. You can donate to a specific teacher challenge through Synergy or https://payforit.net/MakeItemPaymentEx.aspx – select Oregon, OR – Sherwood, Sherwood High School, Doernbecher and the teacher challenge you would like to donate towards.
Mr. Baltzell – Nuclear Ramen Challenge: $200
Mr. Jones – Dye his beard color of students' choice: $300, and/or shave facial hair to students' choice: $500
Ms. Wiley – For every hour without coffee: $5
Mr. King – Juggle a soccer ball to 100: $100
Mr. Kilian – Shave his beard to a mustache: $500, and/or dye his mustache: $1,000
Ms. Hutchinson – Dye a smiley face on her shaved head: $300
Mr. Lake – Rap a song of students' choice: $200
Mr. Giles vs. Mrs. Galvan – One on One Basketball: $400
Mrs. Voss – Plays the Violin: $180
Mr. Tufts vs. Mr. Putney – Basketball Challenge: $200
Let's make a difference for the families at Doernbecher Children's Hospital.
Go Bowmen!

Yearbook School Photos, Grades 9-11
Yearbook needs all students, grades 9-11, to submit their school portrait.
This is a fun opportunity for students to submit a school photo of their own to appear in the yearbook.
We hope you and your student will select a photo that helps them look their best, shows their unique personality, and meets our guidelines.
Check out the yearbook page for more details. Photo submissions are due Friday, March 19th.

Yearbook Senior Tributes
There is still space in the yearbook for parents to purchase Senior Tributes for their graduating seniors. These messages and photos are a fun way to recognize your student.
Questions? Email Adviser Amy Jack: ajack@sherwood.k12.or.us

Athletics Information

Our Season 2 Athletics started March 2nd and we want to reinforce some of our policies that have been set by OSAA and the OHA guidelines:
All athletes must wear masks.
Athletes are required to check in with their coach at the beginning of every day they participate to complete a Covid survey.
Athletes are expected to attend their classes and will not be eligible to participate in practice/contests when the coach is notified of an unexcused absence.
Spectators are not allowed to stay on the premises and watch practices or competitions (OHA regulates the number of participants allowed per space).
Cameras have just been installed in the stadium and Main Gym, so games played in these areas will be broadcast through the NFHS Network (requires signing up for an account). This is free of charge to our parents this year. https://www.nfhsnetwork.com/schools/944f74ab54.
Buses will be transporting our athletes to and from away games with reduced numbers allowed on each bus, per OHA guidelines. Buses will pick up and drop off athletes along the upper stretch of bus lane (between the tennis courts and softball field), near the ticket booth. The parking lot closest to this area is accessible off Haide Rd.

Band Boosters Host Annual Swingin' the Green Event
The Sherwood Band Boosters will be hosting our Annual Swingin' the Green fundraising auction and event virtually on April 8th.
Our silent auction will open for bidding on Thursday, April 1st, with the full event on Thursday, April 8th at 7:00pm, including live auctions, paddle raises, and student performances. Visit our auction website at charityauction.bid/SWINGIN2021 to register for the auction, get a preview of our items, and purchase raffle tickets.
If you or someone you know, including businesses, are interested in donating goods, services or funds, please contact our Swingin' the Green Chair, Liz Busby, at swingin.sherwoodbands@gmail.com
Watch this newsletter and the Sherwood Band Booster Facebook page for another announcement, closer to the event date, for more information. The event is free and open to all, and is our largest fundraiser of the year.

Baja Fresh Dine Out!
Bowmen Cheer is hosting a Sherwood Baja Fresh Dine Out event on Wednesday, March 10th from 4:00pm – 8:00pm. The online coupon code is "CHEER" or be sure to tell them Bowmen Cheer at check out.

In-Person Office Hours

We are excited to offer In-Person Office Hours! This in-person opportunity is open to any student who would like to come on campus to work with teachers in specific content areas.
In-person office hours will be Monday – Thursday, 3:00 – 3:45pm.
Here is the link for to sign-up: In-Person Office Hours Sign-Up Link
If you have any questions about In-Person Office Hours, please contact your student's Associate Principal (Adam Mitchell: 9th grade, Scott Hadden: 10th-12th Grade A-K, Katie Voss: 10th-12th Grade L-Z).

ACT Information – 3/12

Sherwood High School will be hosting the ACT test in person for any interested junior students. The test will be offered from 8:00am-2:00pm on Tuesday, March 30th, Wednesday, March 31st and Thursday, April 1st. *Students will only sign up for one date.
Interested students will sign up for the test on signup.com for their preferred date. The test will be administered in an on-line format. The deadline to register for the test is Friday, March 12th at midnight.

Student Council Applications – 3/19
Are you interested in running for 2021-2022 Student Council?!
Applications are due on Friday, March 19th.
Keep in mind, while being elected to Student Council is an exciting and rewarding experience, it requires an immense time commitment. Your full dedication and effort will be vital to your success. The responsibility of making a difference at Sherwood High School is in your hands. Good luck with the election process and remember to have fun!
Please read through the Code of Conduct and Requirements
Please reference the calendar with deadlines and important dates:
Apply for Student Council here starting Monday!

Seniors – Grad Night 2021

Grad Night Tickets are available for sale now! Get ready for Grad Night, an evening of swag bags, prizes, fabulous food and beverages games, music, photo booths and so much more! Purchase your tickets now.
Volunteer opportunities are still available through May 1st! Remember we have a $1000 scholarship up for grabs for the kiddos that share their time to help with Grad Night. We will announce the winner on June 1st, live on FB and Instagram!
Raffle prizes and gift cards are still needed. A full list and the sign up can be found here. All items are tax-deductible. If you need a receipt, please contact us at shsgradnight2021@gmail.com
Show how proud you are of your graduate by purchasing a Senior yard sign. Our Seniors could definitely use some love and support. All the ordering details are provided in the link below and if you have any questions please reach out to shsgradnight2022@gmail.com, the organizers of this fundraiser!
https://shsgradsigns2021.itemorder.com/sale
As always if you need information, have an idea to share, or need to get in touch, please don't hesitate to reach out.
Follow us on Instagram, Snapchat, and Facebook
Check out our website, update frequently! : SHS Grad Night 2021
Amazon Smile Donations
Contact us at: SHSGradnight2021@gmail.com

Juniors – Grad Night 2022
Our monthly Can and Bottle Drive is quickly approaching on Saturday, March 6th at 11:00am. If you would like to donate your cans and bottles please click on the link to be added to our pickup schedule!
We still need volunteers. This is a great way for your junior to earn volunteer hours, and remember for every hour they volunteer it's an entry for a chance to win a $1000 scholarship. Parents, if you or your student is interested in helping please click the signup genius link.
Follow us on Instagram and Facebook
Contact us at: shsgradnight2022@gmail.com


Resources
Attendance Information – 503-825-6010
Canvas
Career Center Newsletter
Community Information
Covid Resources Sheet
Distance Learning Daily Schedule
Parent Support Organization
ParentVue
Revised District Calendar 2020-2021
SSD Technology Hub
Technology Services
Weekly Activities