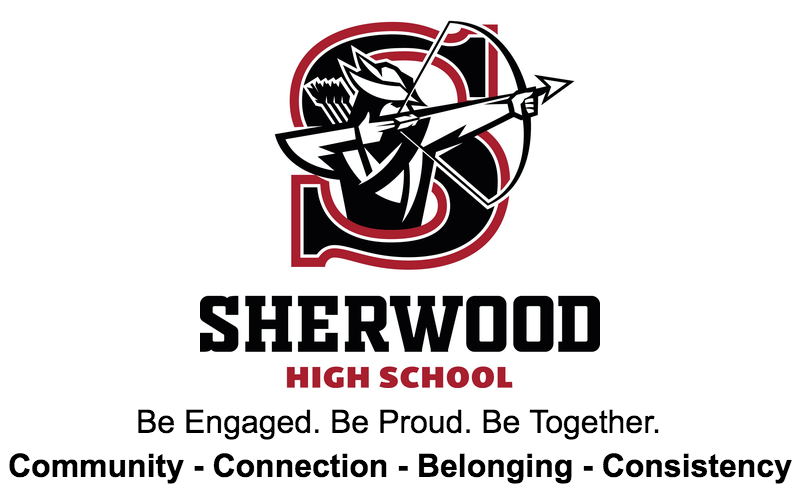 Weekly Newsletter #29
April 16, 2021
Dear Bowmen Community,
I know I've said this so many times before, but I can't believe we're actually here. For an entire year we've been thinking and wondering about and hoping this day would come. And we're here.
Please let us know if you have any questions or need anything. Have a great weekend!
Sincerely,
Melissa Baran
Principal
Attendance Reporting Updates
As we start Quarter Four, please note the following changes in our Attendance Procedures:
If a student is absent from class (either in-person or in-zoom), please notify the Shari Ramp in the Attendance Office directly. The number for the Attendance Line is (503) 825-6010.
Daily Schedule-Beginning Monday April 26th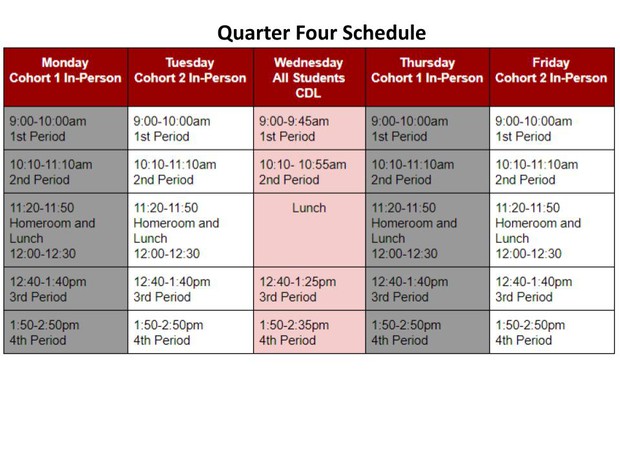 Students are assigned to cohorts based on last name (Cohort 1 is A-K and Cohort 2 is L-Z)
There is not flexibility to change cohorts; we will accommodate families in the same household and ensure that they are in the same cohort
Click here for a printable schedule for hybrid learning the rest of the year.
Course Selection for the 2021-2022 School Year
Video Highlights
This message applies to current 9th, 10th and 11th grade students.
Please take the next week to review the Academic Planning Guide and make selections for the 2021-2022 school year.
Remember to make decisions based on your future plans or what you think may be in your future.
Next week in Homeroom, we will cover the process for actually selecting courses in StudentVue and more logistical details.
2021-2022 Academic Planning Guide
Activities for April 19th-24th
SHS Cloud Campus Students
On Monday, April 19th, we are going to be hosting an off schedule pick up day for students staying on Cloud Campus for the remainder of the school year, 8am-3:30pm. Please come to the front doors of the school building with your schedule and a staff person will be there to help you.
After Monday, we will resume the Tuesday and Thursday schedule for materials pick up, 8am-3:30pm. Thank you.
School Photos in Yearbook
Yearbook is excited to announce that we will be extending our deadlines for the inclusion of student's school photos.
This means that we WILL be able to include school photos from Dorian Photography in the yearbook. Please visit their website to schedule your appointment for Monday, April 19.
Students may still submit their own photo via the yearbook website if they prefer.
This is a change from previous announcements; we appreciate your patience and understanding.
The new deadline for school photos to be submitted to the yearbook is Friday, May 7, 2021.
Please contact adviser Amy Jack with any questions. ajack@sherwood.k12.or.us
The SHS Counseling Team
Hello SHS students and parents. We are excited to have you back in the building.
For students that wish to meet with their counselor please email your counselor directly. We will schedule a phone call, zoom call, or in person meeting depending on what is requested and/or needed.
For Cloud Campus students who are in crisis during school hours, please call our counseling secretary at 503-825-6020 and you will be transferred to an available counselor.
Students in crisis during non school hours, please call the Washington County Crisis Line at 503-291-9111 (available 24/7/365).
Again, welcome back or SHS. Please let us know if you have any questions and/or if we can help in any way.
Last Names Counselor Email
A – Dg Brenda Wilson bwilson@sherwood.k12.or.us
Dh – Hm Patti Micheo pmicheo@sherwood.k12.or.us
Hn-Mg Yvonne van Andel yvanandel@sherwood.k12.or.us
Mh – Sc Jasmine Langeliers jlangeliers@sherwood.k12.or.us
Sd – Z Tyrone Stammers tstammers@sherwood.k12.or.us
Career Center
Are you interested in attending college after high school? Please consider attending our College Info Night for Juniors on April 20th, 6-7 pm. We will be helping guide you towards what you can be doing right now to feel best prepared for life after high school, and answer any questions you may have about getting ready for college applications.
Please prepare for this event by watching this video. This outlines a suggested checklist for college preparation over the Spring and Summer. We will be able to answer any questions you may have, or provide more specific information at the College Info Night. We hope to see you there!
Decision Week 2021
Attention all Seniors!
This year, May 3rd – May 7th is Decision Week! We want to celebrate every single pathway that our seniors are choosing after high school.
If you're attending a four year college, two year college, starting a trades program, joining the workforce, joining the military, etc., we want to hear about it!
Please use this form to submit a photo of yourself showing off what your plans for next year are. We have included some example pictures in this form. These photos will be shared with the rest of the high school so everybody can see the great things you have all accomplished.
Please turn these in by April 22nd, 5:00pm. Feel free to direct any questions to shscareercenter@sherwood.k12.or.us
We are so proud of you all!
Nutrition Services
NO COST School Lunch-Meals will be available to all students at no cost. Each lunch period we will have a tower rack in the commons area with grab and go meals. After school, students can pick up meals from either the commons or outside the main entrance.
Transportation
Information about bus routes and the transportation request form can be found HERE. Questions can be directed to the transportation department at 503-825-5900 or
Riding Buses with Friends
In order to maintain our COVID-19 capacity limits and tend to contact tracing on buses, our Transportation Dept. will not have the ability at this time to allow extra bus riders to travel home with their friends after school. Previously, parents/guardians could send a note with their student requesting transportation to a friend's house on a one-time basis. However, adjustments to transportation plans for this year have put most of our bus routes at full capacity with regular bus riders. This means we cannot guarantee space for additional students not already on a route list for the remainder of this school year. We apologize for any inconvenience, and will continue to review this process as guidance changes in the future.
A message from Bookkeeper, Debi Bear
Student fees are tricky to pay during these times. You can either pay online through your parentvue account (unfortunately only works through a browser not the app) or by dropping a check off made payable to Sherwood High School at the front office. Please check your student's balance online to be sure your check is made out for the correct amount and that your student's name and what fees you are paying are written on the subject line. If your student shows a refund/credit please contact me. dbear@sherwood.k12.or.us Thank you.
Seniors
Jostens Cap and Gown Graduation Orders-Seniors-If you are planning on participating in the graduation ceremony this year, you are required to wear a Sherwood High School approved cap and gown. The order deadline has passed, but Josten's is still accepting orders. Please call them asap to order your cap and gown. You can call toll-free to 1-800-JOSTENS (567-8367).
Parents of AP students
We have decided on our calendar of exams. This calendar was decided based on student input, teacher input, AP requirements, and additional graduation requirements. We have the space available for safe, in person exams – following all Oregon COVID protocols. Those are still changing so we cannot give you specific information on the location just yet.
Every exam (except Spanish) has a digital, at home option – this is called the 3rd administration. Any student not comfortable with an in person exam can opt for the 3rd administration. I need to be contacted directly if that is their choice. Also, any student who chooses Cloud Campus also has the option to take the exam in person if they would like. I will be sending out a bulk email to parents and students with more detailed information.
Please contact me if you have any questions – bfarwell@sherwood.k12.or.us
In person:
AP Calc AB/BC – Tues, May 4 @ 8am
AP English – Wed, May 5 @ 8am
AP Comp Sci A – Thur, May 6 @ 12noon
AP Chem – Fri, May 7 @ 8am
AP Euro – Fri, May 7 @ 12noon
AP Bio – Fri, May 14 @ 8am
AP Comp Sci Prin – Mon, May 17 @ 8am
AP US Hist – Wed, May 19 @ 1pm (this is digital – but we are offering it in person)
AP Spanish – Fri, May 21 @ 8am
AP Physics 1 – Mon, May 24 @ 12noon
AP Physics 2 – Tues, May 25 @ 12noon
AP Art/AP CSP – digital submissions due – Thur, May 20 @ 9pm
2nd Administration – All Digital, at home
AP English – Tues, June 1 @ 9am
AP Comp Sci A – Tues, June 1 @ 1pm
AP Euro – Wed, June 2 @ 9am
AP US Hist – Wed, June 2 @ 1pm
AP Comp Sci Prin – Mon, June 7 @ 1pm
AP Calc AB/BC – Wed, June 9 @ 9am
AP Physics 1 – Wed, June 9 @ 1pm
AP Chem – Thur, June 10, @ 9am
AP Physics 2 – Thur, June 10 @ 1pm
AP Bio – Fri, June 11 @ 9am
Arrows Dance Team
Arrows Tryouts
Arrows Dance Team tryouts for the 2021-22 season are coming up on May 3rd and 4th. All of the information, as well as registration links can be found here: https://forms.gle/p4T9X7grdktrys2H9. Those interested in trying out should fill out the from as well as the SHS Athletic Registration form by April 30th. We will reach out to those who have registered with more details as it gets closer. Feel free to reach us at sherwoodarrowsdance@gmail.com
State Assessment Announcement & Opt-Out Information
The Oregon Department of Education (ODE) applied for a waiver with the United States Department of Education (ED) that would have allowed Oregon to not participate in annual state assessments as required by federal law. That waiver was denied and the District is required to administer limited state assessments this school year. While we don't know all of the details of what will be required, the District is beginning to plan for how best to offer required state assessments.
Students in grades 3-8 and 11 will be participating in at least one assessment this school year (English language arts, mathematics, or science). The Assessment Team at ODE has shortened the tests to the fullest extent possible while still allowing for a reasonably accurate measure of student learning. The assessment test window opens on April 13, 2021, and will remain open until June 11, 2021.
We are in the process of planning our strategy to meet the requirements outlined in the drafted amended waiver with our building-level teams and will communicate updated state testing dates and timelines in the weeks to come.
House Bill 2655 permits parents and adult students to annually opt-out of Oregon's statewide summative tests in English language arts and mathematics by submitting this form (English/Spanish). The form is a simple survey that can be completed electronically. Should you choose to opt out, please help us plan by completing this form by April 16, 2021, to best support district planning. If you would prefer a paper version, you may print out this form (English), form (Spanish), complete it, and turn it in to your school's front office.
Sherwood Snowboard Club
Now is the time to get a Season Pass at Meadows if you're thinking about joining the Sherwood Snowboard Club next year. Go to skihood.com to purchase online.
Value Pass PLUS upgrade to All Access is what you want to purchase.
New Passes
7-14 years old, $249 + $100 = $349
15-24 years old, $339 + $140 = $479
25-64 years old, $459 + $260 = $719
Email sherwoodsnowboard@gmail.com if you have questions.
Leadership
April Students of the Month
The following students were recognized for their humility, honesty, and academic achievement:
Sofia Flowers
Alanna Navarro Garcia
Amelia Godard
Haleigh Wright
Robert "Daniel" Houghton
Dola Popoola
Anna Carolina Wollmann
Charlotte Overton
Oliva Standke
Congratulations!
Two Ways to Save Lives!
Saturday, April 24, 2021
Baskin-Robins Sherwood
Donor Hours 11:00 am – 5:00 pm
For Donors: Pint-for-Pint, FREE Pint of BR when you donate!, $10 Youth Donor e-Gift Card (Age 16-24), Columbia Employee Store Pass
Appointment: Go to redcrossblood.org and use Sponsor Code: SherwoodOR
Friday, April 30, 2021
Sherwood Center for the Arts
Donor Hours 9:00 am – 2:00 pm
For Donors: $10 Youth Donor e-Gift Card (Age 16-24), Columbia Employee Store Pass
Appointment: Go to redcrossblood.org and use Sponsor Code: SherwoodOR
SHS Carpool Cinema
Sherwood High School will be hosting a Carpool Cinema on April 23rd and 24th at 8:00 PM in the front parking lot. Friday night's showing will be of Cars 2, and Saturday night's showing will be of Shrek. The parking lot will "open" at 7:00 PM for vehicles to get their spots.
This is a free event for Sherwood High School students. There will be a limited number of vehicle "tickets", as well as lawn seating. You only need to claim a ticket if you plan on being a driver, then you'll submit the names of everyone riding in your vehicle on the google form.
Cars 2 (Fri. April 23rd) – https://www.eventbrite.com/e/carpool-cinema-cars-2-tickets-150623554105
Shrek (Sat. April 24th) – https://www.eventbrite.com/e/carpool-cinema-shrek-tickets-150625879059
Sherwood Athletic Booster Club
Board Positions: We are accepting nominations for the 2021-2022 Booster Board now. Open positions offer a variety of skill sets and hour commitment, they include: Concessions, Webmaster, Stadium Seats and Drive for School. Contact a Board Member or info@sherwoodboosterclub.com
Athlete Yard Signs: These are for all sports and high school classes. Imagine driving through Sherwood and seeing all of the houses bragging about our athletes. Order yours today at: https://www.adams-screenprint.com/phone/shs-athlete-sign.html
Scholarships: The Sherwood High School Booster Club awards $10,000 worth of college scholarships to Sherwood High School graduating seniors who have excelled in academics, athletics, and community service during their high school career. Applications can be obtained through the Sherwood High School Career Center and are due on June 4th. For more information, please email the Sherwood Booster Club Scholarship Chair at jwernet@sherwood.k12.or.us
PSO
Staff Appreciation is May 3-7th and PSO wants YOU to help us spoil our staff! We have reached $2000 of our $3000 goal. We are asking for the help of our great community, and would like to celebrate our super star teachers with a "Movie Night" theme gift swag bag. Please donate to help show our Superhero staff how much we appreciate them. As we reach each donation milestone, the gifts will accumulate and be added to every staff gift bag. We need all donations by April 20th to place orders on time! Donate at www.shspso.org
Grad Night 2021
56 Days until Grad Night!!
Grad Night Tickets still available, last day to purchase is May 21st!
Swag bags, prizes, fabulous food, games, other fun surprises! Games, music, photo booths and so much more! Purchase your tickets now – two options to choose from, Checks and Venmo accepted! Please contact shsgradnight2021@gmail.com for financial assistance.
In Search of a Virtual Bingo Coordinator for the Grad Night Party – please reach out if interested!
We are continuing to gather raffle prizes for Grad Night. Prizes and Gift cards needed, a full list and sign up can be found here. Thank you for those who have already donated. All items are tax-deductible. If you need a receipt, please contact us at shsgradnight2021@gmail.com
Information – Check out our Website for information regarding Grad Night. Updated frequently!
As always if you need information, have an idea to share, or need to get in touch, please contact us at SHSGradnight2021@gmail.com. The Grad Night 2021 Committee is committed to following Oregon's guidelines regarding COVID precautions. As you know those guidelines can and will change between now and June. Currently we are making plans, along with contingencies, and will modify as needed for current guidelines come June.
Grad Night 2022
Monthly Meeting
Our next monthly meeting is Tuesday, April 20th @ 6pm. We would love for you to join and here about the exciting fundraisers coming up. Below is the zoom link and password.
https://beavertonk12.zoom.us/j/6553662531
Password: planning
Monthly Can and Bottle Drive
Saturday, May 8th is our next Can and Bottle Drive. If you have cans and bottles and would like to be added to the pick up schedule please click on the link below. Please feel free to share the link with family and friends who would like to donate.
https://docs.google.com/forms/d/e/1FAIpQLSfRta0JSRVesA20Vbxmdu8pIhZ6c3uRTrbQDO1K7LUt1um1lw/viewform
We are always looking for volunteers to help with the can and bottle drive. There are several ways you can help. Please click on the link below to sign up. Remember all junior students who volunteer for a minimum of an hour will be entered in to win a $1000 scholarship.
https://www.signupgenius.com/go/60B0B44A5AB2BA5F94-maybottle
Resources
Attendance Information 503-825-6010
Bookkeeping 503-825-6012
Canvas
Community Information
Covid Resources Sheet
Daily Schedule
Parent Support Organization
ParentVue
Revised District Calendar 2020-2021
SSD Technology Hub
Technology Services