August 24, 2021
Welcome back Bowmen! I am so proud and humbled to get to serve as your principal this year, I can't wait for all of you to be back in the building in a couple of weeks! This is going to be a wonderful year at Sherwood High School and our staff are excited to support our students and families in our return to in-person instruction. This email contains a great deal of information, please use the table of contents below to access the information. Again, we cannot wait to have everyone back. See you soon!
Sincerely,
Mr. Mitchell
Principal
Student Schedule Information 
Student schedules will be available to view on Synergy after 4:00 pm on Friday, August 27th. Student schedules can be viewed by logging into ParentVue or StudentVue. If you prefer, you can still link directly to ParentVue and StudentVue via the Sherwood High School main page.
There will be very little room for movement or changes. Schedules are subject to change by counselors and administrators until the first day of school. Students who wish to request a schedule change must complete a Schedule Change Request Form.
In order to preserve the integrity of the schedule, schedule changes will only be allowed for the following reasons:
Incomplete schedule
Inappropriate placement (such as Geometry if a student hasn't completed Algebra)
Errors such as an A and B section during the same trimester or the B section before the A section
Schedule changes will not be made for any of the following reasons:
Teacher changes
Switching class periods
Requesting a different lunch
Requests based on involvement in athletics
The Main Office will begin accepting Schedule Change Requests beginning Tuesday, August 31st. Schedule changes cannot be requested by phone or email. Please note that very few schedule change requests will be granted and, if granted, replacement courses must come from the courses selected in Spring 2021. Counselors will not be available to meet with students about their schedules until the first week of school. The last day to change your schedule without a Withdrawal/F is Wednesday, September 15, 2021.

K-12 Face Covering Rule
On August 2, 2021, the Oregon Department of Health enacted OAR 333-019-1015, which mandates face coverings/masks for all individuals two years and older in all indoor school settings. Our Board of Directors voted to uphold this mandate at their August 4 meeting.
The statewide rule requires mask use indoors by students, staff, and campus visitors when at school during regular school hours; when engaged in educational activities such as field trips or off-campus classes; or at school when engaged in educational activities outside of regular school hours
The rule does include some exceptions to mask use, such as when an individual is actively eating or drinking; sleeping; playing a musical instrument that requires using the mouth; engaged in a sport during physical education class such as swimming or other water sports, or a sport where a mask could be a strangulation hazard (such as wrestling); or alone in a private office enclosed by walls on all sides with a door that is closed
This rule will be reviewed monthly by the Oregon Health Authority, and could be lifted at a later time. On August 4, our Board of Directors determined that if the mask mandate is lifted and decision-making returns to the local level at a future time, our district will implement a policy making the use of masks by students optional at that time.
The most recent guidance from the Oregon School Activities Association (OSAA) indicates that face coverings are recommended but not required for indoor sports. At this time, student athletes will not be required to wear masks during active athletics practice or competition. However, coaches and spectators are required to wear masks at all times when indoors, and players are required to wear masks when not in active play. We will continue to watch for any changes in guidance from the OSAA related to the use of masks for indoor sports.
Physical Distancing
Another health and safety strategy adopted by our Board of Directors on August 4 was the adoption of the Oregon Department of Education's (ODE) physical distancing recommendation. While not required, ODE strongly advises schools to continue the practice of physical distancing in school settings, of at least 3 feet between students to the extent possible. Additionally, the Ready Schools, Safe Learners Resiliency Framework provides an exception to quarantine requirements for students in grades K-12 where physical distancing of at least 3 feet has been maintained in combination with the proper use of face coverings/masks. This means that if a positive COVID-19 case is identified on campus, exposed students who consistently maintained 3 feet of physical distance and properly used a mask at the time of exposure will not be required to quarantine. The adoption of this recommendation will increase the number of students who will be able to remain in school, attending in-person learning, when cases are identified in our schools. Additionally, with the current capacity of our school buildings, implementation of this recommendation for 3 feet of physical distancing will not cause class sizes to be impacted at any location.
Cell Phone Policy (Students) 
"Away, Away" – Students are expected to keep all communication devices from interrupting the educational process at school. Cell phones/electronic devices must be silenced and stored in a backpack, pocket, etc. when students enter any classroom. Teachers may occasionally authorize student use. Students are permitted to use cell phones during:
● Passing Times
● Lunch
● Before and After School
Consequences are as follows:
● 1st offense – A warning will be issued by teacher/staff.
● 2nd offense – Cell phone may be confiscated; student will pick-up the cell phone from the teacher at the end of the class period. Parent/Guardian will be notified.
● 3rd offense – Cell phone confiscated; student may pick-up in Main Office at the end of the day. A referral will be completed and given to an Administrator, and disciplinary actions may be assigned to the student.
● 4th offense – Cell phone confiscated and parent/guardian may pick-up in Main Office at the end of the day. A parent/guardian conference with a Sherwood High School Administrator may be scheduled.
● Failure to follow teacher requests/directions will result in discipline for insubordination.
Weekly Newsletter
A weekly newsletter will go home every Friday. This will be a resource for families to get weekly updates and important announcements. The weekly newsletter will be sent via email to all families. Please verify your email address in Synergy is correct, as this is the address the newsletter will be sent to.
ParentVue/StudentVue Reminder 
Not only are student schedules available for viewing after 3:00 pm on August 27th, but StudentVue and ParentVue are the way in which students and parents can view grades and attendance information in Synergy. Students are encouraged to check their grades through StudentVue at least weekly. By checking weekly, students will have a good grasp of their current progress in all of their classes. Parents are encouraged to check student grades and attendance through ParentVue at least 1-2 times per month. By checking frequently, parents can hold students accountable for their grades and attendance throughout the year.
Parent/Emergency Contact Changes 
Parents are asked to login to ParentVue and check the accuracy of the parent contact information and emergency contacts. If you have any changes that need to be made, please email SHSsynergyupdates@sherwood.k12.or.us with what ParentVue currently says and the updated information. By including both what it currently says and what it should be changed to, we can verify that the person changing the information already has access to the account.
Sherwood School District Release of Student Directory Information 
There are many times, during the course of the normal school year, where students may be participating in an activity that will be captured in still or video form for use by the school/District or local media. We will assume to have permission to take and share these images/videos via websites and district-owned social media sites unless otherwise directed. Parents and guardians have the right to prevent the District from releasing information regarding their child. To exercise this right, parents and guardians must choose the opt out option in ParentVue. While this is always available, opt out must be selected prior to any release of information request since we will not be able to retrieve information after it has been released.
Lockers 
Grades 9 and 10: Students' locker numbers are assigned and available in Synergy.
Grades 11 and 12: Students that wish to have a locker need to sign up for a locker in the SHS Main Office (8:00 am – 3:45 pm).
Fee Payment Information 
Online payments for all school-related fees will be managed through ParentVue once student schedules are live after 3:00 pm on August 27. School Fees may be paid through ParentVue or through the SHS Bookkeeper, Tamara Tinner. SHS 2021-2022 Fee Schedule. However, the bookkeeper can only accept cash or checks. Debit/Credit Card transactions can only be made online through ParentVue.
School Breakfast & Lunch 
Per the US Department of Education, all school meals will be offered to students at no charge for the 2021-2022 school year. Additional items may be available in an à la carte format. Families are encouraged to still fill out the Free and Reduced Lunch application and Permission To Share form in order to be eligible for additional benefits (such as reduced student fees, athletic fees, etc.). More information about depositing into a lunch account, menus, and forms can be found on the Nutrition Services website.
Parent Parking/Student Drop-Off/Pick-up/Student Parking 
Parents dropping off students will enter from Haide Rd at the front of the school, then proceed around the turnaround and exit back out on Haide Rd. Parents and visitors are welcome to park in the front parking lot in any space marked Visitor. Map.
Student parking is available in the front parking lot and in the lot on the west side of the building. Students will need a parking permit to park on campus after September 23rd, 2021. Student parking permits are $20 for the 21-22 school year. This application must be completed and returned with a copy of your driver's licence to a campus monitor before a permit can be issued.
Student Handbook 
The Sherwood School District Student Body Handbook provides information and expectations on District-level policies and procedures. The School Addendum contains commonly used information, rules and procedures specific to each school. Both can be found on each school's website at http://shs.sherwood.k12.or.us/school-info/. These documents contain important information for students and parents about district and school policies, practices, and rules. Parents/Guardians may request paper copies of the Sherwood School District Student Body Handbook and School Addendum in the school's main office. Information contained in the Sherwood School District Student Body Handbook and School Addendum may be revised from time to time at the District's discretion without notice as policies, practices, or laws change. For a complete listing of District policies, refer to the Board Policy section of the Sherwood School District website.
Click on the link to view the School District Student Handbook . The 2021-22 Student Handbook High School Addendum will be available for review beginning September 27th. A link will be provided in the first newsletter. Students and parents are expected to read and be familiar with both of these handbooks.
Counselor/Administration Assignments 
With the overall student population slightly exceeding 1600 students, each class is split among counselors, each student can receive the attention and support they need to apply for and attain their post-high school goals. Please view Who's Your Counselor?.
Ms. Everett will be the administrator who oversees grades 10/11/12 (A-K), Ms. Voss will be the administrator who oversees grades 10/11/12 (L-Z), Ms. Swake will be the administrator who oversees Grade 9. Please view Who's Your Administrator?.
The Importance of Good Attendance 
Student attendance in school is the most accurate predictor of success. Please encourage students to attend school whenever they are physically able to attend. Absences of more than five days per trimester are considered excessive and lead to gaps in learning that are difficult to overcome. Remember that student absences can be tracked in Synergy using ParentVue.
Student Pick-up During School
If you need to pick up your student during school hours, it would be greatly appreciated if you would notify the attendance office in advance, using one of the methods below.
Send your student with a signed note from the parent/guardian and have the student exchange it for a "release from class" pass at the attendance window, before school or during a passing time.
Call the Attendance Secretary at (503) 825-6010 in advance. A note will be sent to release your student at the time requested.
We realize that unforeseen circumstances may arise when you need your student released as soon as possible. We do our best to accommodate this, however, it may or may not be done as quickly as requested.
Please call (503) 825-6010 to report all excused absences, preferably in the morning of the day the student is absent. All unverified absences must be excused within 48 hours of the absence. You may also email the Attendance Secretary at sramp@sherwood.k12.or.us. Please include a phone number we can call to verify the absence if needed. The automated system generates calls/emails at 9:00 am and 4:00 pm to notify parents of unverified absences.
48 Hour Policy
All absences must be excused within 48 hours. The 48 hour window begins at 8:00 am on the day of the student's absence and ends at 8:00 am, 48 hours later. Any absence not excused within the 48 hour window will be considered unexcused. No exceptions!
Ride 360
Parents and students will be able to access their bus stop location, route, and pick up time on the Ride 360 mobile app for the 2021-2022 school year. The app uses GPS geolocation to show bus arrivals each day, allowing families to determine if the bus has already arrived at school or their bus stop. More information about how to access the app and when it becomes active for the Sherwood School District will be made available in a communication through the district. More information will be provided in an upcoming SHS newsletter.
Parent Conferences 
In order to ensure that all of our parents get the opportunity to visit with all five of their student's teachers during each trimester, we will not hold a Back to School Night. We will instead be holding conferences each trimester after progress report grades are released. Conferences will be held from 4:30 to 8:00 pm on the following dates: October 18, January 27, and April 21.
Beginning of Year Schedule of Events 
Tuesday, September 7 – Connection with Families & Students (No School for Students)
Wednesday, September 8 – First day for Freshmen
Thursday, September 9 – First day for all students
Friday, September 10 – Welcome and Pep Assembly
Wednesday, September 15 – School Pictures (order forms are mailed home by Dorian Photography)
2021 – 2022 Bell Schedule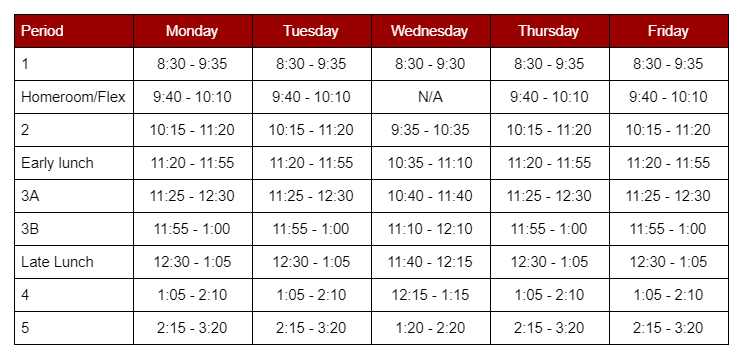 Early Release 
The District will resume its Early Release days on Wednesday, September 15th. This year will look a little different from previous years. Early Release days will occur weekly with high school students released from school at 2:20pm. Please refer to the 2021-22 District Calendar for the scheduled Early Release days.
Activity Bus 
With the passage of the High School Graduation and College and Career Readiness Act of 2016 (Measure 98), Sherwood High School is able to provide an Activity Bus this year for students to receive transportation home from after school activities, clubs, and academic supports. The activity bus will run Monday through Thursday, leaving SHS at 4:15 pm, except for Early Release Wednesdays and during finals of each trimester. The bus will provide general stops throughout town, but not necessarily door-to-door service.
Admission to Sporting Events
The cost to attend sporting events has changed this year to adults $7 and students $5. High school students who purchase an ASB sticker ($30.00) will be allowed in for free. Senior citizens, age 62 and older, will be allowed in for free except for playoff games. All students (regardless of the ASB sticker) and senior citizens will be charged for playoff games. Playoff game prices are determined by the OSAA and change depending on the level of playoff.
This year, Sherwood High School, and other schools in our league are moving towards online ticketing. Tickets will be purchased online and entrance in will just be a scan away with your purchased QR code! Stay tuned, as more info on this will be coming out!
Device Protection Plan
Sherwood offers protection for your students' devices. Enroll in the optional Device Protection Plan here – this link goes live on Friday, September 27th, 2021.
Open House at SHS
Please come join us next week for Open House. Students can familiarize themselves with the building, find their classes and lockers.
Tuesday, August 31, 2021 4pm to 7pm – Students whose last name starts with A to K
Wednesday, Sept 1, 2021, 4pm to 7pm – Students whose last name starts with L to Z
Friday, Sept 3, 2021, 10am to 12pm OR 1pm to 3pm – open to all students.